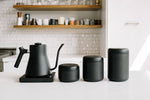 It's All About The Beans...
It is time to be better than we were before. To capitalize on small adjustments for max benefit. To purposefully provide an optimal environment for freshness and taste. Yes, I am talking about coffee... coffee storage to be exact. 
Keep those beans air tight and fresh for unexpected events, celebration, and every day you wake up to welcome new opportunities.  Stay Dope.