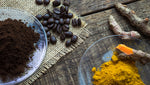 Health     
IS     
Wealth.    
Turmeric is a potent anti-inflammatory and antioxidant spice with a powerful polyphenol - curcumin. A culinary treat, turmeric actively heals your body with it's medicinal properties. When paired with dope coffee, a mood-boosting, energizing drink is created. Additionally, coffee is linked to positive emotions, serves as a catalyst for burning calories, and has an impact on healthy gut microbes. 
Health is wealth. The strength in a person's creativity is linked directly to what they put in their body. Dope Coffee's Turmeric Latte pairs best with our Organic Guatemalan and Ethiopian Dripp coffee, for an even dose of caffeine and polyphenols. An all-natural way to nutritionally self-care!
⅛ tsp ground Turmeric
¼ cup Extra Creamy Oat Milk, very warm
Dope Coffee syrup, optional
Frother (optional)
Froth turmeric, warmed oat milk and Dope Coffee syrup (optional) together. Add turmeric milk to freshly brewed Dope Coffee. Stir and sip slow.
Note: Add a sprinkle of black pepper to top off your latte to increase turmeric bioavailability by 2000%!