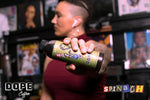 Hello Spring! 
Meet Iced Coffee.
The height of the Ethiopian coffee market is now. With coffee bean harvesting and washing complete,  roasters are planning to receive their green Ethiopia coffee beans. 
As for Dope Coffee, we are also preparing to brew our Ethiopian Iced Coffee. Just in time for Springtime. Just in time to make those boss moves.
Ice-cold and ready to drink when you are. Ethiopian Iced Coffee is a vibe for every situation. Versatile consumption. Perfect stimulation. A classic, re-mastered.  Brewed with you in mind,  our  Ethiopian Iced Coffee was inspired by the taste buds of Black culture  and  brewed with culinary science.     

Enjoy a very crisp and smooth taste, with a deep chocolate finish, while staying light on the tongue. Excellent black or as a sweetened iced latte  for a treat. 
Brewed, Bottled, and  Distributed in Decatur, Ga.