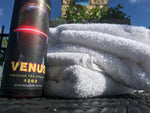 "Space, the final frontier. These are the voyages of the Black Star Enterprise. Its continuing mission, to trap on new worlds. To decolonize whole civilizations. To boldly revolt, as. no one has revolted before. "  - Chel
They say be strong and count your blessings. I woke up this morning and chose my own path. Seeing what is being done to my culture, how we are not telling our own narrative, and instead constantly combating other's stereotypes and depictions. 
That is not what I am about. My body's strong. My culture's strong. We eatin' spinach, producing spinach, talkin' Spinach. 
     Every Day. Coffee is culture...just ask Harriet.
The rtd duo 
C'mon and fly with me to a place with Dope beverages that stimulate and rejuvenate the mind and body. This is a place for coffee and tea lovers alike,  with the smoothest iced coffee straight from the motherland of Ethiopia and African hibiscus steeped and cold brewed for the ultimate thirst quencher.
BUY
  Stay Dope.