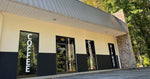 Decatur, GA, January 19, 2023 – Metro-Atlanta, Georgia-based Dope Coffee Company is launching its first big event of the year, the Dope Coffee Brand Experience, February 18, 2023 at its new, fully-integrated headquarters building and event center in Decatur, GA. The team at Dope is fresh off of a fundraising round that saw the Black-owned brand raise over $500,000 dollars from customers and investors which helped them to launch this new facility.
Fully Integrated Facility
The new 6,000 square-foot facility includes the company's coffee bean roasting, manufacturing and warehousing operations; a multi-media production facility; offices; a community event space and the Dope Coffee Cafe. "The facility not only is the home of Dope Coffee, it's an important and integral extension of the Dope Coffee brand," says Michael Loyd, founder and CEO of Dope Coffee Company.  "The mission of the Dope Coffee brand is to connect coffee, culture and hip-hop," Loyd says. "Our new, fully-integrated facility allows us to do this under a single roof, along with extending it out into the larger world through our sales of Dope Coffee direct-to-consumers via our website and at retail stores throughout the country."
Dope Coffee Brand Experience
The Dope Coffee Brand Experience runs from 11 a.m to 2 p.m. on February 18, 2022 and will feature free coffee tastings, a coffee roasting demonstration by Dope Coffee Company co-founder and chief product officer Michelle Loyd, live music by founder/CEO Michael Loyd (aka Creative Mike the Rapper) and chief marketing officer Stace Loyd, and a prize giveaway.  "Dope Coffee is an experience as well as a premium coffee brand," Loyd explains. Dope is the tantalizing vibe of coffee + hip-hop and we use music to bridge the gap between generations and ethnicities, offering quality that appeals to everyone."
Dope Coffee Company was founded in 2019 by husband and wife team Michael and Michelle Loyd. In 2020 the company started selling Dope Coffee directly to consumers via its website, fulfilling the orders out of the Loyd's garage. Sales grew rapidly through 2022 and in 2023 Dope Coffee is taking its next big leap in January, which is launching the brand in retail stores, starting in the Southeast and Western U.S.
"We're taking the Dope Coffee brand to Americans where they live and work by way of launching in retail stores," Loyd says, "and our first Dope Coffee Experience event at our new home in Decatur will celebrate that, along with celebrating our presence as a vital force in the local community here in metro Atlanta."
Brand Experience and Grand Opening Schedule of Events, February 18, 2023
 11:00 a.m. Free Coffee, Beats & Breakfast
12:00 p.m. Ribbon Cutting Ceremony
12:30 p.m. Roasting Demo by CPO Chel Loyd
1:30 p.m. Live Music Performance by CEO Creative Mike The Rapper & CMO Stace Loyd
2:00 p.m. Grand Prize Giveaway
Contact: Michael Loyd @ michael@realdope.coffee. 404-784-9832