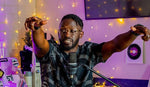 2020 has been one hell of a year filled with many challenges, learning experiences, and most importantly, growth. As we enter into 2021, we at Dope Coffee are filled with excitement, gratitude, and ready to hustle even harder. We would like to take the time to share with you some of our major accomplishments in 2020, driven greatly by your support. 
A Look At 2020:
BLACK CARD:
2020 started off strong at Dope Coffee as we raised $107k to expand to where we are now. With the money from crowdfunding, our product line grew as did our ability to produce a greater quantity at a faster pace. 
SQUAD GOALS:
The Dope Coffee team expanded in 2020; from a 3-person crew to a squad of creatives ready to take over the world. Each member has brought their own perspective and style to the team. Everyday, we push each other forward to help the company and each other grow. 
MUSICAL LEGENDS:
One of the greatest moments of 2020 was expanding Dope Coffee into Dope Coffee Music. A one-of-a-kind creative production company that signs REAL artist. And through Dope Coffee Music, the greatest album of 2020 was released: $pinach by Creative Mike the Rapper x Stace Loyd. 
THAT DRIPP:
Every good album needs some fire merchandise, and Dope Coffee has the best. To pair with the album, we dropped a new specialty coffee, Ethiopian Dripp along with $pinach apparel and mugs. 
THE GIVE BACK:
Dope Coffee has opened their headquarters up to the public as a place for creators to do what they do best: create. Additionally, through Black Sheep Accelerator, CEO of Dope Coffee, Creative Mike, has taught young entrepreneurs how to get their business off the ground, all on their own. 
What's Next:
2020 was just the beginning for Dope Coffee. We're about to take off and fly to Venus. You do not want to miss the ride because it's only going to get better from here. Be on the lookout for our great products, merch, deals, and music.