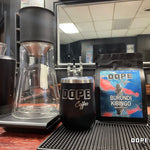 Are you looking for the best holiday gifts for coffee and music lovers? Look no further than Dope Coffee. This brand based in Decatur, Georgia has something for everyone, with a motto coffee-culture-hip-hop, you're in good hands for this holiday season. Small batch roasted, fresh daily, Dope Coffee manufactures everything from single serve coffee pods (K Cups), 5lbs bagged coffee for the coffee enthusiast, and custom designed Dope Coffee merch. This year we've put together our Top 9 Dope gifts that will be perfect for the snobbiest coffee drinker or fashionista this holiday season.
FEEL, BE, SIP - DOPE COFFEE
Top 5 gifts from Dope Coffee
FEEL WARM MERCH SET
Dope Coffee Hoodie

12oz Dope Coffee Tumbler 
Baby it's cold outside! Warm up with an exclusive Dope Coffee heavy-weight hoodie, paired with a laser engraved stainless steel black tumbler. The Feel Warm Merch Set is high-quality in every regard, the perfect on the go gift this Winter Holiday season.
THE AFRICAN TRIO
10oz Burundi Honey or Burundi Kibingo

12oz Ethiopian Dripp or Decaf Ethiopian Dripp

12oz Tanzania Peaberry 
Dope Coffee specializes in roasting unique and hard to find African coffees. This year's lineup of Burundi, Ethiopia, and Tanzania profiles are the very best in the coffee world. Coffee originated in Africa, and these coffees pay homage to that idea. Check out this fine line of micro lots and sustainably sourced coffees, that will impress even the most cultured coffee drinkers.
BARISTA SET
20oz Double-Walled Pour Over System

12oz Dope Coffee Tumbler

10oz Burundi Kibingo Micro Lot
Everyone has a friend who loves to make coffee like they're America's favorite barista. The Dope Coffee Barista Set includes an elegant pour over kit from Fellow boasting a generous, double walled insulated carafe and sleek design, a Dope Coffee laser engraved stainless steel black tumbler, and Dope Coffee's finest micro lot offering, the Burundi Kibingo, a Grade 1 natural processed bean. Get out your grinder, throw on your favorite apron and get ready to watch an amazing coffee bloom right in front of you, pre-infused for taste, then take in the smell of Africa's finest. Coffee is the culture.
GIFT CARD
Electronic (instant)

Physical (In-store only)
Need to send a gift instantly? Or want to give a great coffee gift but you don't know anything about coffee? No worries, just grab a gift card from Dope Coffee and let your friends and loved ones choose the best gift! Remember it's the thought that counts…
Speciality Coffee On The Go
12ct Ethiopian Dripp Coffee Pods

12ct Organic Guatemalan Coffee Pods

12ct Tanzania Peaberry Coffee Pods

12ct DECAF Ethiopian Dripp Coffee Pods




We all want to sit and make the best cup of coffee, but sometimes you just gotta grab it and go. Dope Coffee specializes in a variety of speciality single serve coffee pods that are compatible with all Keurig machines and most single serve brewers. The lineup includes a variety of medium- and dark-roasted coffees, as well as a Swiss Water Decaf. All ground precisely for the perfect single serve brew.