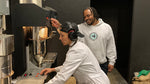 As a child I would walk the aisles of the grocery stores with my mother as she did her weekly shopping, I was a curious and creative young fellow with a nack for merchandising and artistic design, I constantly scanned the packaging of the top food and beverage companies from Kraft and Nabisco to Coca-Cola and Pepsi and always took a little extra time to study the packages that had Black and Brown faces on them such as Uncle Bens, Aunt Jemimah and Cream of Wheat. I'd linger on each aisle scanning the tops and bottoms of the packaging and reading the never-ending ingredient list before catching up with my mother who had already moved on to the next aisle ready to get home after a long day's work. It was hard for me to grasp why every product was nearly identical, many products used the same fonts and colors, and while there were a few outliers such as products in the "cultural" section, grocery stores seemed mostly homogenous.
A lingering thought in my head since I was a kid was that I'm going to redesign everything in the grocery store and revamp the way this all looks and feels. As a CEO of a startup coffee manufacturing company that also operates as a hybrid record label, I am challenging much of the status quo in the consumer package goods (CPG) industry from the taste to the look. Truthfully, I really dislike what I see when I walk into mass retail stores and it's only getting worse with the consolidation of brands under major conglomerates and food distributors.
The real question before us as manufacturers and innovators is, how do we innovate in the mass retail world with respect to CPG in a way that is authentic and resonates with consumers who want more from their purchases? I believe the answer is the digital cultural product or DCP, for short. A DCP is a simple concept that combines a digital experience from an artist or creator with a physical product. At first glance, you might mistake what I'm describing as a celebrity endorsement of a retail product, but let me be very clear, a DCP is not the same as a celebrity endorsement as they plain and simple don't work. If you need evidence, look no further than Adidas/Ivy Park's sales plummeting although Beyonce is a multiplatinum superstar. In my mind, I imagine artists and creators who also work the manufacturing and marketing side of consumer products, so that what they create and how they create it is as much a part of the story of the art itself.
What makes a digital cultural product different than consumer package goods, first of all, we have to acknowledge what digital streaming platforms did to the music and creative industries. Overnight, almost anyone could record a song or make a video, and upload it to a host of platforms which in turn, makes it much harder for artists to break through the noise. Second, we must acknowledge that the music industry is mostly built to profit off the artist and so even artists signed to major record labels find it difficult to benefit from the substantial revenues they create for the entertainment industry. The DCP is an entirely different concept, the artist is the product creator & manufacturer and therefore the success of the product is the same as success for the artist.
In 2020, my Chief Marketing Officer, Stace Loyd asked me to work on an album with him called Spinach under our companies music division and to roll it out as a singular coffee and hip-hop product and from there the idea was set in my mind that this was the right time to take on CPG at the retail shelf but bring the concept closer together in concept and reality. Putting hip-hop artists on the front of products is not new, Sprite has always done an excellent job of marketing their line with the Legends of Hip-Hop line adding rap lyrics to their cans and Snoop Dog's face can be seen on a myriad of consumer-packaged products but none of those products come off as genuine because they are not ultimately connected to the creator, themselves and the culture that embraces the artist.
When I wrote the Spinach album, I tied it to the Ethiopian Dripp, a coffee line in distinct green packaging marked with Harriet Tubman on a defaced $20 bill covering up Andrew Jackson that also featured a prominent QR with instructions to "stream the album" and linked directly to the music hosting platform SoundCloud. QR codes for music have already been tied to products, it's the intentionality behind the entire packaging that makes the DCP consumable art. The art is not an afterthought, the entire point of the package is to tell the artist's story while also taking the customer on a coffee journey that will be repeatable in a way that can generate brand loyalty. As proud as I am of Spinach/Ethiopian Dripp, the line was meant to demonstrate a concept and show other artists that we have a repeatable formula that is ready for adoption. My next DCP rollout would come by chance meeting during a brand activation in Austin, TX for the TV show Atlanta Season 3.
I met GRIP a burgeoning rapper out of Atlanta signed to Shady Records / Goliath Artists, and Interscope Records at South by South West (SXSW) in march of 2022 along with his partner and manager Tigg while running a brand activation FXAtlanta Season 3, the concept was a Euro Cafe with a museum-like art gallery and a live hip-hop performance, it was clear that something great was brewing from the very beginning. GRIP was upstairs performing live tracks from his recently dropped album, I Died For This!? while I was downstairs serving Ethiopian Dripp to hip-hop fans and music lovers. Grinding through a pandemic is tough enough, achieving success through a pandemic is the sign of a superstar, and when I met GRIP, I knew instantly that he had a vision and foresight to bring a DCP to life. At the end of the night, our teams briefly linked and acknowledge that what each other was doing was really dope and deserved further conversation to see if a collaboration was possible. 
After making it back to Atlanta, GRIP, and his team met with our team in our newly launched coffee roastery and manufacturing facility and once GRIP saw our coffee products, he instantly connected to his passion for craft beer.
It wasn't long before he was going through the bags and smelling the coffee and connecting the dots that the coffee he loves to drink is an agricultural product that he could process no different than taking barley and turning it into beer. From there, we spent multiple days in the roastery learning more about coffee, from roasting to tasting different origins and blends, and at the time we were thinking of a rollout for a future project but over time it became clear, let's activate his back catalog and a game-changing album titled, I Died For This. Reactivating the back catalog is one of the primary benefits of the DCP, artists are often encouraged to continue releasing new music although the art they've already created has tons of economic potential remaining. It wasn't long before the, I Died For This!? album turned into I Died For This Coffee!?, a catchy name that has symbolic meaning for both teams.
I Died For This Coffee!? became a rallying cry for our team, and the total integration of coffee, culture and hip-hop rejuvenated us in a way that I didn't anticipate. We just launched the line this week, starting with a limited edition, numbered and hand-signed set along with 25 official album vinyl before a larger mass retail launch later this year. We have a unique challenge in front of us regarding how far can we take this new line of coffee into the mass retail world, only time will tell, but I believe in the power of the digital cultural product, I believe in the power of hip-hop to not only to give voice to my community, but also to expand into new markets, and create unique marketing opportunities. Stay tuned, I'll let you know how this goes and when you can find I Died For This Coffee along with Ethiopian Dripp on the shelves of Whole Foods, Target, and who knows, maybe your favorite retailer in your neighborhood.