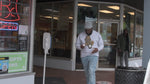 A Political Hip-Hop Film by Dope Coffee Music
White Paper Ballot
 2020 was one of the most contentious and difficult years in modern American history. The political landscape combined with COVID-19 highlighted the gross inequality in our society. At times, many of us felt powerless to control our own narrative and keep our spirits high during times of despair. 
At Dope Coffee, we set out to create a work of art that could help us to share our vision for the world and activate our community to become more politically and socially engaged. We created the film White Paper Ballot in order to merge the culture of hip-hop and politics in a way that brings the Black voice forward and in full focus. 

The White Paper Ballot film was inspired by the song White Paper Ballot written by Creative Mike The Rapper and produced by Stace Loyd from their Dope Coffee Music album release titled Spinach. The track is set to soulful jazz samples with politically engaged lyrics that tackles the tenants of police brutality, White Supremacy, and the perils of capitalism when the weak are exploited.

Fresh off the album release, Stace & Mike teamed up with the Dope Coffee Music Creative Director and Cinematographer, Joe Skillas, to bring the narrative to life. The Dope Coffee crew handled the entire production internally from the camera work to the acting, with additional appearances from Chel, Brandon, Briea and Michael Loyd III.

— Debuts February 1st 2021
White Paper Ballot is the story of an enlightened wander who crosses paths with Agent Stace, a bad cop with a fractured past. After a day of crashing into each other, Agent Stace arrest the The Wander, but there's a twist...   
 The Film debuts on February 1st 2021 and can be viewed exclusively on Dope Coffee Music's official Youtube channel, so don't forget to subscribe. 

Our First Promo video debut's tomorrow January 15th on Youtube, watch it here. If you haven't heard the song White Paper Ballot, stream it here and be sure to try the Ethiopian Dripp, our medium roasted Sidamo we pair to stream and sip with pleasure. 

Dope Coffee
Company
198 14th St NW, Atlanta. Ga 30318

© Copyright 2018 Company Name